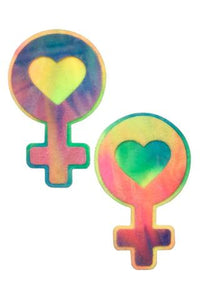 There has never been a more important time to stand in our truth and reclaim our divine feminine power. Show that you are proud, beautiful and not ashamed of your body in our Girl Power pasties. 
These pasties are stretchy and form fitting for wrinkle free coverage. We also do our best to create these cuties out of recycled scrap fabric to help reduce waste from our cutting and sewing process.  
Make sure your skin is clean and dry, then just peel, place, and stick!

Made with acrylates, a top-quality medical and surgical grade adhesive. 
These pasties are only waterproof upon first use, but they can be reused with spirit gum or other cosmetic adhesive. You can also reuse them as patches on your bags or clothing once you're done!